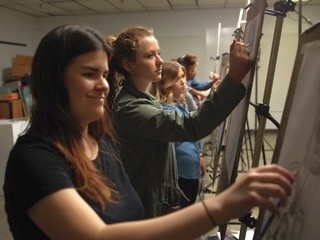 Whether you sing, paint, act, sculpt, dance, or engage in some other kind of artistic expression, you may be thinking about studying art in college. If you're considering an art major, there are some things you should know about the types of colleges and programs that are available. In this blog post, I will provide information about art schools and conservatories, suggest topics to research, and offer tips for the application process. In subsequent posts, I'll explain the different types of art degree programs and what they involve, as well as considerations for specific programs.
Questions to ask yourself/points to consider:
Are you passionate enough about your art that you want to major in it, or would you rather major in another subject and do artistic extracurricular activities?
Do you want to attend an arts school/conservatory where you will only study art or a college/university where you also can pursue other interests?
Most professional arts schools/conservatories do not have other traditional components of college life, like dorms, a Greek system, and sports.
If you attend an art school/conservatory, all your peers will be artists as well. At a college or university, you'll have a wider variety of peers.
Topics to research/questions to ask colleges:
Who will be teaching classes – professors or grad students?  Are the professors practicing artists?  Do they have advanced degrees (i.e., MFA)?  Have they won awards in their field?
What opportunities are there for performing/exhibiting/publishing?
And what kind of relationship does the college have with the larger arts community?
What kind of facilities does the school have?  What is the quality of the facilities and equipment?
If you decide you don't want to major or minor in art, can you take art classes, participate in productions, etc.
The application process:
A portfolio or audition is a major factor in the application process; at some schools, it's the most important part of the application.
Work with your teacher(s) to select pieces for your portfolio or audition.
Begin compiling a portfolio or practicing an audition piece in the spring and summer of your junior year.
Some colleges require a recommendation letter from an art teacher.
Some schools require an artist's statement as opposed to an essay. This usually asks students to describe how they became interested in their art, the role it plays in their lives, and what they want to do with it in the future.
Some schools require an artistic resume.
Some conservatory programs don't require ACT/SAT scores; at some colleges, they have minimal importance.
Miscellaneous:
Where you go to college can have a huge impact on your chances of having a successful artistic career.
Many colleges have art scholarships; scholarships also are offered by arts organizations.
Every year, the National Association for College Admission Counseling (NACAC) hosts Performing and Visual Arts College Fairs. The 2013 fair schedule will be posted on NACAC's website in March.