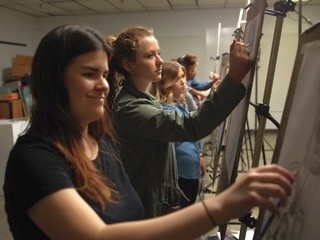 In my last blog post, "An Introduction to Arts Colleges and Programs: Part 1" I provided information about art schools and conservatories, suggested questions students should ask themselves and colleges when considering an art degree, and offered advice on the arts application process. In this post, I'll explain different degrees in the performing arts, as well as things to conisder if you're interested in a performing arts program. Please note: BA stands for Bachelor of Arts, BFA stands for Bachelor of Fine Arts, and BS stands for Bachelor of Science.
Drama:
Degree options:

BA: offered at colleges/universities and some conservatories; 1/3 of coursework in drama
BFA: usually offered only at conservatories; 2/3 of coursework in drama
BS: rare but similar to BA
two-year professional certificate: offered at conservatories only; some have transfer arrangements with four-year colleges

Concentrations: performance, design, film and TV, production, musical theater
Considerations:

What are the program's philosophy and techniques?
Dance:
Degree options:

BFA: usually offered at conservatories; for people who want to dance professionally; very rigorous
BS: offered at only a few schools

Concentrations: ballet, jazz, modern dance
Considerations:

What type of dance do you want to study? Most programs only focus on one type, with the majority focusing on modern dance.
If you want to teach dance, you'll need to find a dance education program.
Music:
Types of programs:

Conservatories: prepare students for professional music careers; some colleges/universities have conservatories within them
Traditional colleges/universities: good if you want to study music education or an aspect of music other than performance; can pursue other interests in addition to music

Degree options:

BM (Bachelor of Music): performance-oriented; offered by most conservatories and college music programs; 80% of coursework in music
BME (Bachelor of Music Education): for future music teachers
BFA: similar to BM
BA or BS: offered by many colleges/universities; less intense than BM or BFA; good if want to focus on another aspect of music besides performance

Concentrations: accompanying; chamber music; composition; conducting and ensembles; jazz studies; music education; musicology; organ; piano and keyboarding; voice, winds, brass, percussion
Considerations:

Does the program offer intense study in your instrument?
Music majors spend a lot of time with faculty members (i.e., in private lessons), so if possible, schedule a private lesson when you visit a school.