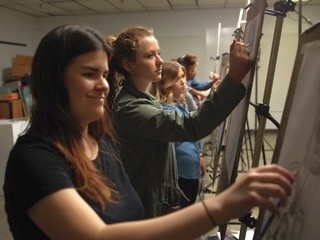 My last two blog posts ("An Introduction to Arts Colleges and Programs: Part 1 and Part 2") have offered an introduction to art schools and programs, as well as an in-depth look at the degree options for performing arts. In this post, I'll explain different degree programs in the visual arts, other art programs, and creative writing, as well as considerations if you're thinking about pursuing one of these programs. Please note: BA stands for Bachelor of Arts and BFA stands for Bachelor of Fine Arts.
Visual Arts and Other Art Programs (see Concentrations below):
Degree options:
BFA:
offered at art schools and colleges/universities; 3/4 of coursework in art
BA:
offered at colleges/universities; more flexible in terms of courses taken outside of art and usually has more emphasis on art history and criticism; 1/3 of coursework in art
Concentrations:
animation, art education, art history, art therapy, architecture, ceramics, drawing, electronic media/web design, fashion design, furniture design, fine arts, glass, graphic design, illustration, industrial design, interior design, jewelry, metalsmithing, painting, photography, printmaking, sculpture
Considerations:
Have you already chosen the art form(s) you want to study or are you still exploring?  If you've already chosen, make sure the colleges you're considering offer a concentration in that art form or a significant number of courses in that art form.
What is the program's philosophy?  Is it traditional or more experimental?
In most programs, first-year art students take several introductory courses in different art forms.
Creative Writing:
Degree options:

BA in English with a concentration in or emphasis on creative writing
BA in creative writing: may still require literature courses
BFA in creative writing: offered at fewer colleges; may still require literature courses
Combined BA in English and creative writing or literature and creative writing

Tracks within creative writing: fiction, poetry, creative nonfiction, screenwriting, journalism (may be offered as part of a creative nonfiction program); fiction and poetry are most common tracks
Considerations:

Most BA programs do not require a portfolio for admission to the college, but one may be required for acceptance to the creative writing program
Many intermediate and advanced level courses are workshop, which involve reading and evaluating other students' work