Welcome to another edition of the Carnival of College Admission, where the best bloggers writing about the transition from high school to college gather every two weeks with a cavalcade of of their best work.
Thanks to the continued support of our participants–and especially to our hard-working hosts–who ensure that the Carnival is a success.  We have hosts lined up through the end of 2009, so if you're interested in hosting, please give me a shout.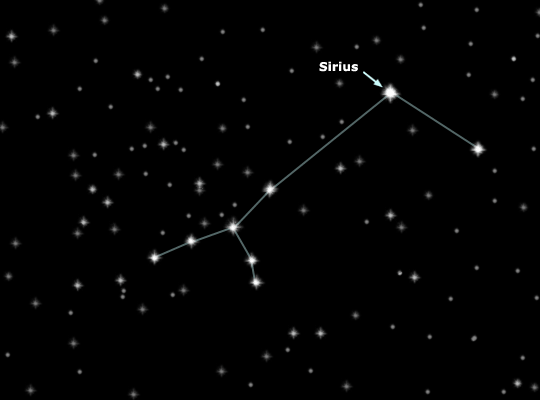 This edition is dedicated to the Dog Days of Summer.  Ever wondered were that expression comes from?  It relates to the Dog Star, Sirius (remember him from the Harry Potter series?), which burns most brightly during the hottest part of the summer.  Romans used to sacrifice a brown dog at the beginning of the "dog days" to appease the gods and lower the temperature a smidge.
So if you can't stand the heat (and you really don't want to sacrifice your dog), cozy up to your computer screen and read all the great posts from this edition of the Carnival of College Admission.
College Search and Selection
Many people don't consider hiring a private college admissions counselor because they don't think they can afford one. But most consultants can provide more benefit to the student than they cost. Todd Johnson, who, like me, is an independent college counselor, presents Professional Help Choosing a College posted at College Admissions Counseling.
Hard economic times put the focus on education. In that spirit, Lynn Mattoon presents The Bright Side of Todays Economy: The Motivation for Education posted at CollegeTreasure.com Blog.
The Admissions Process
Now is the time for rising juniors to get going on their college search and start thinking about those college applications.  Jason Robinovitz offers a clarion call in his post, Rise Up, Juniors! Take Action! that appears at Score At The Top.
Essays are an important part of the entire admissions process.  Ann presents Admissions Essays for College, Law School, Graduate School, Medical School and More! posted at Writing Drawer.
Having taught overseas, I can tell you that not everyone has the same approach to plagiarism as we do in the United States.  Wassan Humadi, who specializes in educating students from the Middle East about college life in the US,  presentas a post describing Plagiarism from a Cross-Cultural Perspective | Al Jamiat Magazine posted at Al Jamiat Magazine.
Most students are aware that extracurricular activities are an important part of high school life.  But they are also important in the college application process.  Accordingly, Basilace presents Activities Outside of School posted at Teen College Education.
College counselor Julie Manhan shares her best tips to help you win the college admissions game in a post entitled (appropriately enough!) My Best College Application Advice .  Julie's tips are posted at myUsearch blog.
I have several clients agonizing about whether to apply early to the college of their choice.  Katherine Covino's post, entitled To Apply Early Or Not To Apply Early – That Is The Question should helm them decide.  See Katherine's post at College Jolt.
I'm happy to offer up my recent post containing Five Essential Tips for the Perfect College Essay.  You can find my blog, well, er, you're already here.
Boarding Schools
Peter Baron is an expert on boarding schools.  He visits scads of them all the time.  In this post, however, he presents Four Year Degree Completion: Myth and Endangered Species posted at Boarding School Blog – onBoarding Schools.
Graduate Schools
The admissions process to business school keeps changing, and consultant Adam Markus stays on top of the trends.  In this post, Adam examines the standardized tests required:   The GMAT versus GRE: Does It Matter for MBA Applicants? Visit Adam's blog at Adam Markus: Graduate Admissions Guru.
Interested in getting an MBA?  Linda Abraham offers some answers to your questions in the  – Accepted Admissions Almanac – The MBA Tour Q&A posted at Accepted Admissions Almanac.
In his post Studying Law, something for me? posted at Future Student, Nils helps potential law students decide whether or not to go to law school.
Scholarships, Financial Aid, and Paying for College
Need money for college?  Some larger universities employ teaching assistants, and sometimes they can make a pretty penny.  Nate explains the dollars and cents of becoming a teaching assistant in his post,  The Economic Advantages of Becoming a Teaching Assistant posted at Debt-free Scholar.
Looking for money for college?  Perhaps Mike can help.  He presents 18 Useful Scholarship / Financial Aid Resources posted at AidScholar Blog – Thoughts on scholarships, school, and starting up.
College Life
Inspired by the girl who sued her college after graduation because she can't find a job, Dawn Papandrea came up with 5 Reasons I Should Sue My College posted at CollegeSurfing Insider.
It's not easy to step outside your comfort zone. This is my study abroad story and why I would challenge you to experience new things. Hannah DeMilta presents Stepping Outside Your Comfort Zone posted at Al Jamiat Magazine.
Where has politesse gone?  Candice Arnold wonders, too, and reminds us that  Internship Interviews Require Thank You Letters, Too posted at CollegeRecruiter.com.
College students are not known for their financial prudence.  To help educate them a bit, Jim presents 40 Money Tips for College Students posted at Blueprint for Financial Prosperity.
In our consumer society, more is better.  But Matthew Paulson sees things differently.  Check out his post,  Going to College with Less , which appears at American Consumer News.
Everyone isn't lucky enough to have a dream roommate. Here are some tips from Kat Sanders on how to get along with the one you've got!  Check out this post, called How to Get Along with Your College Roommate , which can be found at 2East: The College Living Blog.
Online Education
Emma Taylor presents The 100 Best Open Education Resources on the Web posted at MasterDegreeOnline.
Other Cool Stuff
Carleigh presents Cramster Blog posted at 25 Back to School Gadgets.
Guffly presents Going Back to School the Eco-friendly Way | Guffly posted at Guffly.
PicktheBrain presents 20 Fascinating Ancient Maps posted at Associate's Degree.
Cooling Off
Well, that wraps up this edition.  Our next edition will be hosted by Elizabeth Kraus over at myUsearchBlog.com. Feel free to submit a post to the August 26th edition by using our handy-dandy form.  And if you want to see the archives, check them out here.
Thanks to everyone for participating, and feel free to leave a comment!