The campus visit is one of the most important elements in choosing the best college for you.  However, many students and their families do not take the time to ponder how to make the most of your brief visit.
This is the first in a series of tips to help you plan your campus visits.  We begin with some general considerations.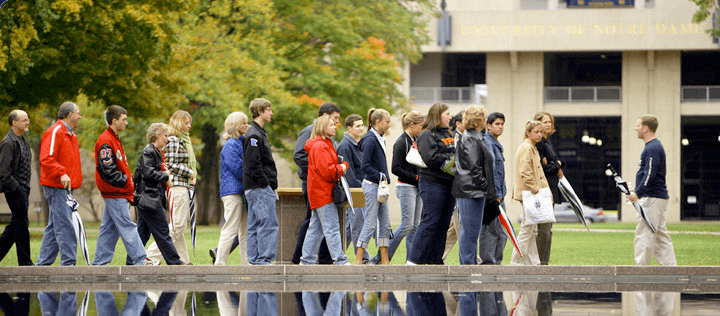 When to Visit
As a prospective student, the best time to visit a college is when classes are in session.  This is when you will find both students and professors populating and animating a campus.  That said, it may be difficult for you and your family to take the time (and shoulder the expense) of traveling around the country during the school year.  Summertime or school vacations may be the only time available to you.  In that case, absolutely use the time you have available.  No matter when you visit, make sure you plan ahead to get the most out of it.
Why You Should Visit
There are two reasons to visit a campus.  The first is relatively obvious:  you need to obtain a physical sense of the campus where you plan to spend four years of your life.  You want to go beyond the websites and brochures and guide books to get a personal impression of the campus and the people who inhabit it.   However there is a second and equally important reason to visit a campus.  These visits demonstrate your interest in that campus—and "demonstrated interest" is often part of the decision colleges make about whom to accept and whom to reject.  Admissions officers like to accept students who are genuinely interested in their community.  Some colleges won't even accept students who live within easy driving distance of campus if they haven't made the effort to pay a visit.  Therefore, you need to ensure that the admissions office knows you will be coming for a visit. Even if you cannot arrive during normal office hours, or if you arrive on Sunday, or if you can only visit on Thanksgiving, be sure to email the admissions office in advance to let them know.  You want these folks to know that you cared enough to pay them a visit.  Check out this list of tips on how to connect and communicate with college admissions people
Visit in the Afternoon and Evening
Often colleges plan visits for the morning. Some offer tours at 9 am.  This may be convenient for travelers, but a morning tour will give you a skewed sense of any college campus in America. Why? Because college students do not fully wake up until noon!  Classes may be in session in the morning, but you generally will  not feel the buzz and bustle of any campus until about 4 pm.  One of my favorite times to really get a sense of a campus is around the dinner hour.  Athletes are returning from practice, music and arts rehearsals are getting underway, student centers are vibrating with activity, and academic lectures and events are about to begin.
Fewer Visits, More Time for Each
One of the common problems with the "grand college tour" that many families organize is that campuses all begin to look the same after a couple of days.  Even for a "professional college tour taker" like me, I find that my eyes start to glaze over after the eighth college in three days.  My general advice is to target the three or four campuses that are most likely—given your research—to fit you well.  Don't waste time visiting a campus just because it's nearby or along a route.  If you have invested time in researching the best colleges for you, then you should be able to eliminate a bunch from your itinerary.  Usually I advise my clients not to visit more than three or four in a single trip.
Take Your Time
The simple answer: as much time as you possibly can.  Remember that you are not simply choosing a piece of real estate on which to hang your hat for four years.  You are not choosing a resort or a spa. You are choosing where to invest your educational dollars.  You are selecting a community of which you want to be an integral part for as much as five percent of your human life span. A two-hour dash across the campus will not very helpful in guiding your decisions.  Again, it's better to visit fewer campuses, but to explore each more thoroughly and carefully than to zip from one campus to the next to see as many as possible.  So take your time, using these tips as your guide for how best to organize that time.
If you'd like to read more about planning the perfect campus visit, sign up below for our FREE email course.  Topics include:
Taking the campus tour
The role of the "information session"
Connecting with faculty
Exploring the community…and more!
Use this form–just enter your name and email address.  We protect your privacy:  we never share or sell your contact information with anyone.

Email Marketing You Can Trust
Mark Montgomery
Independent College Counselor

Technorati Tags: college, admission, campus, university, visit, visiting, admissions, consultant, counseling, counselor, educational consultant, Del.icio.us Tags: college, admission, campus, university, visit, visiting, admissions, consultant, counseling, counselor, educational consultant,