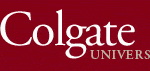 As a high school student, the "real world" may seem far off and you may be much more interested in the television version at this point. Be forewarned though, the real "real world" will come a lot faster than you might imagine!
As you are visiting college campuses this spring consider the efforts the colleges you are looking at make to help students get ready for life after college. If you are looking for one that excels in this area, look no further than the school I am proud to call my alma mater, Colgate University.
Most colleges you look at will have active career services offices to help students think about the transition from college to the "real world." They will help students with their resumes, interviews, cover letters and much more. However, I think a lot of colleges could learn from Colgate University's "Real World Conference" program. It was a program that I had the opportunity to attend as an undergraduate and sincerely appreciated.
This is an annual program hosted for Colgate Seniors in January at end of the winter break before the start of their final semester. Each year the campus brings back over a hundred alumni who work in varied careers to network with their students. Students can attend panel discussions to hear from alumni who work in areas such as: law, medicine, retail, environment, non-profits, marketing, government, healthcare, social media, education, finance, and social services. This year's conference also included sessions such as: alumni mock interviews, personal finance, assessing graduate school options, and "your job application from start to finish." The conference also hosts informal gatherings over coffee, at sporting events, and during an "etiquette" reception for alumni and students to interact.
Sometimes, this conference can lead to opportunities for jobs for students and sometimes it is purely informational. Regardless of the outcome, it is a wonderful service by the college and the students are lucky to have such a program. In addition, you can take advantage of this program even once you graduate from Colgate. Alumni who are not in attendance at the conference are invited to view sessions through live webinars.
We all know the difficulties that college students face in these economic times in regards to their search for a job. Every little bit helps and every effort made by a college on the student's behalf is a good investment.