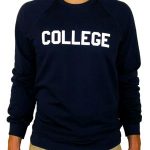 Show some college spirit!
College in Colorado's annual "College Friday" is a great opportunity to raise awareness about the importance of higher education for Colorado's youth and to wear your favorite college logo apparel. I know that I will be sporting my college sweatshirt that day and heading out to get some free food in Boulder, Colorado!
If you live in Colorado there are some great perks!

Free Chips and Queso at participating Qdoba for wearing your college gear
Free Ice Cream at Cold Stone Creamery from 3:00 PM – 7:00 PM on College Friday and receive a free "Like-It" sized ice cream for wearing your college gear.
Scholarship opportunities!
For more information and a list of participating locations visit College in Colorado