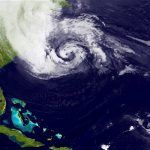 To say that Hurricane Sandy has wreaked havoc on the East Coast is an understatement: at last count, 29 people had died and almost 8 million had lost power.  The scary part is, the storm isn't over yet, and it may be days before any of us know the extent of the damage.  One bright spot amidst all the devastation is that many colleges have extended their early application deadlines as a courtesy to students affected by the hurricane.
Some schools actually issued new deadlines, while others simply stated they will be flexible in enforcing their November 1 deadlines.  This article, published on October 29, lists colleges that have changed their deadlines.  Students should check direclty with the colleges listed to make sure the new deadlines are correct.  Additionally, if you are applying to a college that isn't on the list and you will not be able to submit your application on time because of the hurricane, you should contact the college to ask if you can get an extension.
One more piece of advice: don't use the extended deadlines as an excuse to procrastinate.  Even under the circumstances, you should still get your applications in ASAP.