As a college counselor, I am often frustrated in speaking to students and families that have very strong opinions about the geography of the United States.  With my foreign families, the focus is generally on two areas: California and East Coast (by this, they mean the area between Philadelphia and Boston). My Boston families often cannot conceive of considering a school more than 150 miles from Boston (which, after all, is the "hub of the universe," at least in the mind of Bostonians).  Kids who live in the suburbs often fancy themselves "urban" creatures. Even when their favorite restaurants are Olive Garden or Applebee's. And the last time they ventured downtown was several months ago.
Sometimes it's hard to get students and their families to consider an unfamiliar geography.  And this is especially true when it comes to the American South.
Which is a shame.  I have some kids who talk about how they can't wait to try something new. To "get outside their comfort zone," to stretch a bit.  But then they draw the line–literally–along the old Mason-Dixon border. Between the  Union and the Confederacy. And ignore any possibility that heading south might actually be that area "outside the comfort zone" that would allow them to grow as a person–and as and American.
Don't Rule out the South
I've had the good fortune to travel to quite a number of colleges and universities in the South. And I'm always impressed by the quality of the schools. The caliber of students I meet, and the very clear cultural differences.  The South is not where I grew up, and it's not where I went to school.  I guess you could say that I was equally prejudiced in my views as a kid.  But the more I've traveled to colleges in Tennessee, Georgia, South Carolina, Alabama and (gasp!) Mississippi, the more I recognize these views for what they are:  prejudices unfounded on fact or experience.
I've also had the good fortune to strike up a social media conversation with Jake Bonnell. An admissions counselor at Millsaps College in Jackson, Mississippi.  As a "northerner" and a "mid-westerner," Jake has transplanted himself to the heart of the Deep South.  And he's enjoying the change–in his environment, his community, and himself.
Here, then, are Jake's discoveries about the South–and about the merits of considering higher education in this culturally rich part of America.

Jake Bonnell is an admission counselor at Millsaps College in Jackson, Mississippi. He graduated from Ohio Wesleyan University in Delaware, Ohio in May of 2013. See his Twitter profile.
******************
985 Miles South
This is my second move south. The first came at the beginning of my 8th grade year when I moved from Sheboygan, Wisconsin all the way down to Pittsburgh, Pennsylvania. The second move was, admittedly, a little more severe. On August 5th, I moved from Pittsburgh, Pennsylvania to Jackson, Mississippi. A whopping 985 miles into the heart of the deep- south. The land of sweet tea and fried chicken, or at least that is how I imagined it.
I'm not from the South. I've never been 'fixin' to grab something to eat, nor have I ever invited 'yall' over for shrimp and grits. I don't go alligator 'huntin', or crawdad 'fishin'. I'm not from the South but, I will say that over the past three months this place has really grown on me. There are still things I don't like, but there are so many things that have taken me completely by surprise. Here are a few.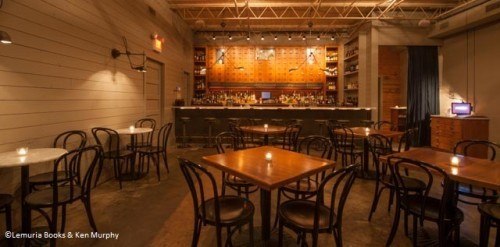 The South loves to eat. No surprise here; there is a reason that Mississippi is the heaviest state in the union. People, nation-wide, rave about southern-style, deep fried, butter drenched comfort food, but I'm actually not here to talk comfort food. As much as I love mac and cheese, catfish and fried okra, I could honestly do without.
Southern in Different Terms
To me, Southern eating is really defined by an all in-compassing love for wonderful food of all types. Within walking distance from my house in Jackson is an organic grocery co-op with its own vegetarian cafe. An oysteria that serves oysters on the half-shell swimming in Alabama white barbeque sauce, citrus, shallot, and garlic. And a bakery owned by two classically trained French Pastry Chefs. We've got greasy burger joints, and wine bars serving tapas; pastel painted sandwich shops and classic American diners. The South loves food. They love biscuits and gravy. But they also love crab, artichoke, and parmesan crusted flounder that has been sautéed with charred tomato lemon butter. Made with locally sourced produce.
I'm incredibly new, new to the south, new to Jackson, and new to Millsaps. As a result, I don't know a ton of people. Even so, if someone saw me walking around campus or around Jackson they would think that I have lived here all my life. I am constantly making friends at the grocery store, in the cafeteria and even at the bank. Just roaming the streets, there are always people waving and smiling.
True Southern Hospitality
There is nothing better at making a new city feel like home than being embraced by the people who live there. All of those wonderful southern hospitality stereotypes ring true here in Jackson. The other half of that hospitality stereotype holds equally true; people are constantly trying to feed me. My mom is wonderful. But I have had more complete strangers try to feed me here than my mom ever has. There are certainly some not so nice parts of the South. But the people of Jackson are just about the nicest people I've ever met.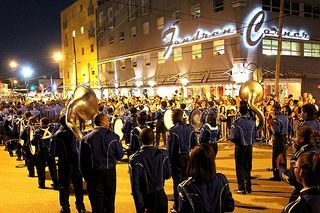 5:30 AM, December 15th, an alarm clock blares in a small town just east of Columbus, Ohio. In the pitch black, I role out of bed, throw on a coat, run down stairs and sprint outside through the knee deep snow to urge my car back to life.
After hurling myself back inside to the warmth of a shower and new clothes, I re-apply my layers. Sweat shirt, vest, jacket, winter coat, hat, gloves. I make it back outside just in time for the warm air blasting on the inside of my windshield to have had absolutely no effect. Two inches of ice still standing in between me and my morning commute. From there it only takes a quick twenty minutes of scraping to clear my windshield before finally heading into work. Today is October 30th. The low today in Jackson, Mississippi was 50 degrees. I wore a coat once last week. I won't be scraping this year.
Three months ago, I was looking for a school in the same way that many of you are now. I will admit that at first I didn't look at schools in the South, turned off by my own preconceptions. Finally, as I expanded my search, I found Millsaps and got a glimpse into what the South is all about. This move was a huge change for me. But I will also tell you that I am incredibly thankful for everyone who has helped make this place feel like home for me. As you continue your college search, I'd urge you to look south. Even briefly, and see what we have to offer. If wonderful weather, food, and friendship don't do it for you, we always have sweet tea…
 
********
You might like to check out Jake's previous post about the merits of a liberal arts education.  Or check out my own videos that I took at Millsaps when I visited the campus here and here.