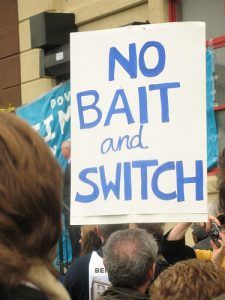 This article from Inside Higher Ed. explains the nefarious process of "gapping" students when awarding financial aid.  Even colleges that say that their admissions process is "need blind" often do not offer enough financial aid to cover a family's financial need (as expressed by the FAFSA's "expected family contribution," or EFC.
College bound students and their parents should not be misled by the claim that the admissions process is "need blind."  Even if it is, it is possible that you will not get a financial aid award that meets your need.
In other words, you may get in–but be unable to pay the price demanded.