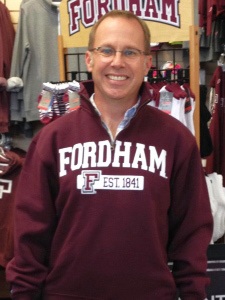 College admissions expert and educational consultant Mark Montgomery reviews Fordham University in the Bronx, New York City, New York. A stone's throw from Manhattan on a beautiful campus, this diverse university is very worth considering on your college search.

TRANSCRIPT:
So today I'm on the campus of Fordham University in New York City. It's located in the Bronx, one of those five boroughs of the City of New York, and absolutely gorgeous campus. This park-like environment with trees and a big, huge quad, beautiful buildings, including the new business school building. Division I sports, there are about 5,800 or so students on this campus. And then Fordham also maintains a campus in Lincoln Center downtown in the city. Only about a 20 minute or so subway ride away.
The Best of Fordham
This has a fantastic business school, it's a liberal arts university with the Jesuit tradition. So the Jesuit schools include, for example, Boston College, Georgetown, the Loyolas, Regis University in Colorado, Seattle University, Gonzaga, just a ton of them in the area, all over the United States. But the interesting thing about Fordham is that you've got the best of both worlds in some ways. You've got this park-like, bubble campus that's really beautiful. So you feel like you're away from everything.
You could be in Vermont, for gosh sakes, in some ways. But you're right next to the city. You can just get on the subway, walk out the gate, be on the subway and be in Manhattan in just a few minutes. So students have the access to the city. And the internships and the possibilities of the city. And yet they can have this really traditional campus environment.
The Lincoln Center campus has about 1,700 students. It has only four programs, all of which are related to business. Also it tends to be a more diverse campus, it also has — about 50% of the students there are commuters. It also tends to be a more international campus. So it has what critics, if you read the guidebooks, anyway, critics of this campus talk about is that it lacks diversity here at the Rose Hill campus, but with the university overall, it has great diversity and great possibilities for a student who wants to go to school in New York City.
 
Mark Montgomery
Expert Educational Consultant