In honor of election day, here are some fun facts about where U.S. presidents and presidential candidates attended college.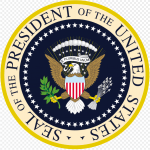 Eight U.S. presidents did not have college degrees.  They were: George Washington, Andrew Jackson, Martin Van Buren, Zachary Taylor, Millard Fillmore, Abraham Lincoln, Andrew Johnson, and Grover Cleveland.
The college from which the most presidents graduated is Harvard, with eight presidents.  Those presidents were John Adams, John  Quincy Adams, Theodore Roosevelt, Franklin D. Roosevelt, Rutherford B. Hayes, John F. Kennedy, and George W. Bush, and Barack Obama.
Wondering where recent presidents went to college?
Jimmy Carter: U.S. Naval Academy (also attended Georgia Southwestern College and Georgia Institute of Technology); graduate degree  in nuclear physics from Union College in New York
Ronald Reagan: Eureka College
George H.W. Bush: Yale
Bill Clinton: Georgetown; Rhodes Scholarship to Oxford University; law degree from Yale
George W. Bush: Yale; MBA from Harvard
Barack Obama: Columbia University (started at Occidental College); law degree from Harvard
And what about recent presidential candidates?
Al Gore: Harvard University (another fun fact: he was roommates with actor Tommy Lee Jones)
John Kerry: Yale; law degree from Boston College
John McCain: U.S. Naval Academy
Mitt Romney: Brigham Young University (started at Stanford); MBA and law degree from Harvard
Happy Election Day!