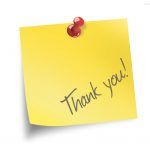 Seniors, did you finish writing all of your thank you notes yet? Thank you notes are a thoughtful and quick way to let someone know how much you appreciate their effort on your behalf.
While working in college admissions it was always a pleasant surprise to receive a thank you note from a high school student I had met with in my mailbox. I often would find myself posting these notes to my office bulletin board and sometimes when reading an application a name would trigger my memory that matched one of those notes.
Think about who helped you with your college admissions process thus far. Make sure you have written notes to any admissions representatives or college alumni that you interviewed with. If you went for a campus visit did you sit down and talk with someone from the admissions office or a particular academic department? Also, don't forget the teachers in your school who spent time writing your letters of recommendation.
Many of you have probably already completed these (good job!) but if you haven't I would encourage you to to do so by the end of the month. Grab a small box of stationary, collect addresses, and start writing!