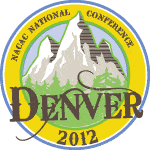 Don't be surprised to see swarms of college admissions representatives, high school counselors, and educational consultants walking around the mile-high city next week!
The National Association for College Admission Counseling (NACAC) is coming to Denver, Colorado during the first week of October. During this gathering of nearly 6,000 professionals there will be numerous sessions on the state of college admissions and trends in the profession. Following the conference, there also will be a college fair  for local high school students to talk to the visiting representatives at the Colorado Convention Center.
NACAC is an organization of more than 12,000 professionals who are dedicated to serving students as they pursue postsecondary education options. As a member of the Local Arrangements Committee for the conference I have had the joy this past year to help in the planning of this conference. Not only has it been an amazing way to be involved in such a wonderful organization but it has been a great opportunity to connect with friends and colleagues on both sides of the admissions table.
Stay tuned for upcoming blog posts from Montgomery Educational Consulting about what we learn during the 2012 conference!