Today a reader called me out on my decision to focus in a recent post on the Top 10 Value Colleges as identified by the Princeton Review (Kiplinger's has a similar list, about which I also wrote about).
My reader made the point that public universities can be a better deal, and that the list of public universities on Princeton Review's list are much more accessible to the "rest of us" than the ultra-selective "Top 10 Value Colleges" like Harvard and Yale.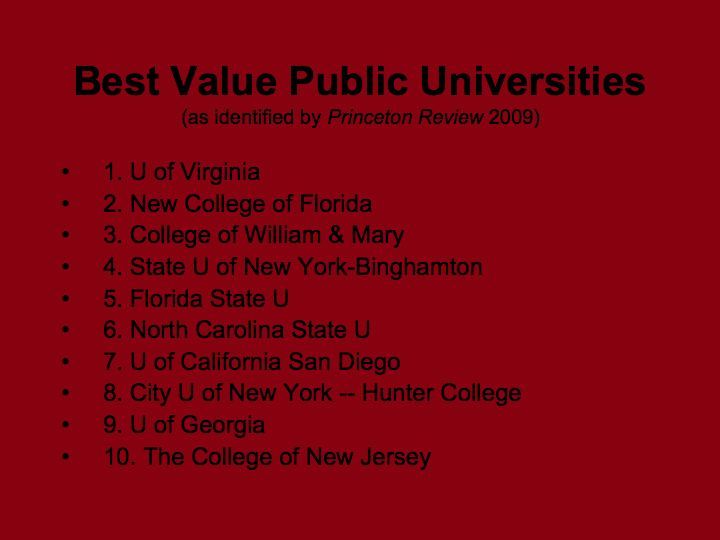 Certainly Princeton Review will defend its selection criteria, saying that they have taken into account academic factors as well as financial aid practices.  But choosing a college on the basis of this list alone would clearly be silly.  In qualitative terms, the education one might receive from William & Mary vs. the New College of Florida would be quite different.
Let's also look at some interesting facts and figures that are masked by these ratings.
At less than $5,000 a year, tuition at New College is a bargain for residents of Florida.  Out-of-staters will be charged over $23,000.  Despite the perceived bargain, New College has  a transfer rate of 32% (meaning that 32% of freshmen transfer out at some point before graduation), clearly New College is not enough of a bargain to keep a full third of its entering class.  Of course, this is likely because New College has a special set of characteristics that might make it more (or less) appealing to some students. Choosing this college only on price would be a mistake.
The College of William and Mary and the University of Virginia accept 34% and 35% of their applicants, respectively.  But for applicants from outside the state of Virginia, these schools are as selective as any in the Ivy League.  University of California San Diego accepts 46% of its applicants, but is only slightly easier than the two Virginia schools for out-of-state applicants to be admitted.  So if you choose three universities based on price, you had better have the goods to be admitted.
CUNY–Hunter College is a large urban university in New York City with a great reputation in many fields, and it accepts 49% of those who apply.  Nonetheless, a whopping 64% of its incoming class will not graduate six years later. As one admissions professional I know has said (in another context), to recruit for a school like that is like pouring water into a bucket with a hole in it.
The College of New Jersey qualifies as a hidden gem for many folks, in part because of its small size (about 6,200 undergrads).  It accepts slightly less than half of its applicants, and its graduation rate is quite high.  However, only 5% of its students hail from beyond New Jersey.  As a Colorado boy, I am not convinced many kids I know from the Front Range will stampede to Ewing, NJ, in search of a "bargain".
This leaves us with one mid-sized university (SUNY Binghamton) with under 12,000 students, and three extra large universities (Florida State, NC State, and Georgia), each with over 30,000 students.  These three have impressive graduation rates, are not impossible to get into (yet always more difficult for students from out-of-state).  Tuition prices for in-state students run about $16,000, and double that for out-of-staters.  But would it really be considered a "bargain" for a student from Colorado to attend SUNY Binghamton and pay more than $40k in tuition instead of attending Colorado State University and paying about $10k?  Is SUNY Binghamton that much better, academically speaking, that the Colorado student should consider it a "bargain"?
While I concede to my dear reader that a quality education is available to most students in America–perhaps even at a bargain price–this business of labeling this or that university as a better "value" is not very helpful to the consumer of educational services.  As I stated in my previous post, the "bargain" is in the eye of the beholder.  The fact that the chartreuse sport coat is very low priced does not mean I will want to buy it (please…I prefer pink).  Or how about the those jeans with the 58-inch waist?  I see that they are very high quality, but they don't fit me at all well.
Finding the right college is partly about price.  But only partly.  Plus, as I have stated elsewhere, the list price of any university is not necessarily the price YOU will pay.
So I'll say it again.  Buy these magazines if you wish to bolster the economy, and I'll send you my thanks.  But if you use these rankings to choose yourself a college, well, caveat emptor.
College Counselor and Personal Shopper
Technorati Tags: college selection, college search, college ratings, college rankings, best value, Princeton Review, Kiplinger's
Del.icio.us Tags: college selection, college search, college ratings, college rankings, best value, Princeton Review, Kiplinger's