As I explained in a previous post, I recently asked a group of friends about their experiences in selecting a college or university.
These words of wisdom come from a gentleman who attended Dartmouth College, in Hanover, New Hampshire, and who later went on to medical school. He is now a well-known plastic surgeon, and is an active member of the Dartmouth alumni association.
"My school search evolved over time. I started out thinking I'd go to a state school–Penn State or Pitt, both with good reputations–or one of the many smaller colleges in Pennsylvania. My uncle, a physician and my mentor, suggested that I look at Ivy League and more competitive schools, so I did.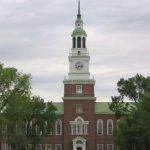 When I really got going, I based my decisions on location (I wanted to be in the northeast), school size (I was leaning toward a smaller school, rather than a giant place like Penn State), and then I started in on individual factors. I wanted a coed institution, someplace with a good reputation, since I wanted to get into medical school, and I wanted a place that was a "liberal arts" institution.
I used one of the college books (Barron's) to make a list, sent letters, and read brochures. Dartmouth stood out to me based on the above-mentioned factors, and then in particular, the quarter system, which seemed to allow some flexibility for someone who was pre-med, and the international opportunities, which were readily available, even to someone who was pre-med, since only one quarter was tied up in overseas study.
I didn't really know anyone who had gone there, and I had no connections to the place. I really loved it after I visited, and I applied early decision. I also looked at a few urban campuses (Harvard and Yale), and was much less excited with that option, though the idea of living in the city had some appeal, as I was from a small town.
In the end, I was very happy with my choice, and remain so to this day. The four years I spent as an undergraduate were four of the most meaningful and influential to me as an individual. I wish I'd have taken more advantage of some programs outside of the sciences, but as a pre-med, I still had certain courses that I had to take, limiting time for some elective study."
This man's experience points to the importance of being somewhat systematic in the college search process. He developed a few criteria, and began to weigh different schools against each of them. However, he was not immune to new discoveries, and his visit to Dartmouth made all the difference.
Mark Montgomery
Montgomery Educational Consulting
Technorati Tags: Dartmouth, college, medical school, admission, selection, choose, New Hampshire Del.icio.us Tags: Dartmouth, college, medical school, admission, selection, choose, New Hampshire Furl Tags: Dartmouth, college, medical school, admission, selection, choose, New Hampshire