Just a heads up that the 2011-2012 Common App will no longer be available as of July 13, 2012.
If you're a senior, and you've been accepted to college, you've probably emotionally "moved on" from your Common App experience.  But, if you've decided to take a gap year, or you started the Common App but didn't submit it for one reason or another, you only have a limited amount of time left to save a copy for yourself of what you may have input, already.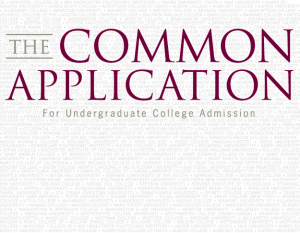 Even if you are heading off to college next year, you should consider keeping a copy just for your files for the future.   You may want to forget about the experience all together, now, but you'll be happy that you kept a record of your college application in years to come.
To save a copy of your Common App, simply use the Print Preview function that is part of the Common App.  This will allow you to download a copy onto your computer and save your application as a pdf file.
Time is running out, so if you want a copy of your Common App, do it now!  The 2012-2013 will be coming along shortly after the 2011-2012 version shuts down!