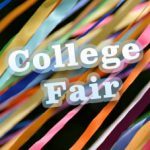 High School Juniors, March is here and spring is in the air…and that means spring travel season is here for college admissions representatives!
You may have gone to a college fair this fall but think about how much more you know now about your college search than you did then. You probably have a better sense of your grades for the junior year, the courses you will be taking senior year, you may have even received some SAT or ACT scores by now. Also, you may have some colleges on an initial list that are sparking your curiosity. Why not take this opportunity to go ask some admissions representatives from the colleges you are interested some questions, discover some new colleges to round out your list, and fill out your contact information so you can get more information.
The National Association of College Admissions Counseling (NACAC) sponsors college fairs across the country during the spring. Take a look at the list of dates and locations to see if there is one in your community.
For advice about how to make the most of your college fair experience see my past blog post here.
Mark Montgomery
Expert Educational Consultant
image credit:http://www.austincc.edu/newsroom/index.php/2010/09/20/meet-acc-at-your-college-fair/