Periodically I ask friends, colleagues, and acquaintances about how they chose the college they attended. Each story is unique, and I think they help provide some perspective to today's high school students (and their parents) on what is important in the college selection and admissions process.
Today's story is from Laura Zurowski, who struggled to decide between a "more reputable" college and one that seemed to offer her more of what she really wanted. She followed her instincts, and was ended up quite happy with her decision. Here is her story in her own words.
I remember very well how I chose my undergraduate alma mater. This was back in 1985 when you *maybe* applied to 3 colleges. I applied early admission to Syracuse and Emerson and was accepted at both. The price was comparable, Syracuse (at the time) was a clearly more competitive, better rated school but I decided on Emerson because I wanted the small class size, the urban environment, and the kids with the weird looking hair.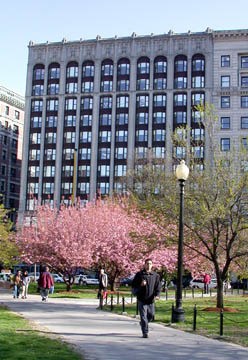 Syracuse was WAY too athletic for me – and I didn't want to be stuck on a "campus." I felt zero connection with the facilities at Syracuse whereas Emerson's buildings in the Back Bay of Boston (where the school was located at the time – now their buildings are primarily in the downtown theatre district) totally entranced me.
My parents weren't thrilled with my choice, but they supported it, and in retrospect it really was the best place for me at that time in my life. Emerson supported my creativity, fostered divergent thinking, and had excellent connections for internships – all of which I took full advantage of. These days, Emerson is so much more competitive and well known than it was when I was there, so I received excellent ROI for the degree.
🙂
Laura found the college that "fit" her, and she had the courage to turn down one that was considered more prestigious or reputable. She was able to find the place had the sort of students she wanted to hang around, that provided the sort of environment she was seeking, and that nurture her creativity. In the end, she found great internships. And despite her parents' doubts, she even has a satisfying, well-paid job!
The point is that you cannot listen to others in this process. In seeking the right college, you have to be true to yourself. You have to think carefully about the factors that you consider most important. And then you have to systematically searching for the colleges that satisfy your criteria.
Some people, like Laura, are able to do this process on their own (and as she says, it was a different world in 1985!). But some students need a bit of help in identifying their search criteria and then finding the colleges that fit.
If, like many people, you need some help in this process, you might consider hiring a professional to guide you through the process.
Mark Montgomery
Great College Advice
If you liked this post, you might want to look at others in this series, including articles from folks who went to Harvard, Dartmouth, University of Pennsylvania, University of Rochester, University of Portland, Cornell College, and New York University.
Technorati Tags: Emerson College, Syracuse University, College Advice, College Counseling, Colorado Educational Consultant
Del.icio.us Tags: Emerson College, Syracuse University, College Advice, College Counseling, Colorado Educational Consultant