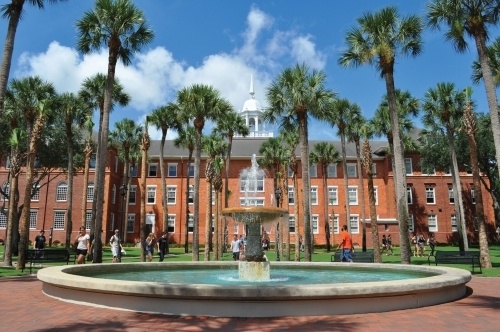 Expert educational consultant Mark Montgomery reviews Stetson University in sunny Florida. If you're trying to find the right college, this one may be it with its myriad opportunities for leadership and community engagement.

TRANSCRIPT:
So I'm here on the campus of Stetson University in DeLand, Florida, central Florida. And when I visit colleges I try to meet with admissions officers if I can to just get a sense. To kind of get the quick and condensed version of what they're looking for. And what they offer as an institution. And so I sat with two admissions officers today and asked them, "So what are the three things I need to know about Stetson University?"
The Size of the School
So the first one is the size. The size of the school is small, it's a little bit under 3,000 students, and the size offers two advantages. Academically, there's a lot of connection between students and their faculty. Stetson still requires a senior research project of all their majors. Business is a little bit different. But all majors are required to do a major research project in their senior year. So that's one aspect academically. And then the other piece is that in terms of size, the leadership potential or possibilities for students is much greater. Because they have fewer students. So if they have 100 clubs, well, they've got 100 presidents of all those clubs. So it's possible to really gain substantial leadership ability, or experience, on a campus as small as this.
Location, Location, Location
Second thing that they mentioned was location. Because it's in a small town, it's not tiny but not in the middle of nowhere. It's about an hour from Orlando and about 30 minutes from Daytona. So that there are possibilities for things like internships. As well as the connection with the community because of its location here in central Florida. And you should also add that it's Florida. So it's warm and you can wear flip-flops most of the school year. Right now it's a little bit chilly here in January, but it's actually a quite cold day for Florida.
Get Involved
And then the third thing they talked about was engagement and the possibility to be really engaged. This is a Bonner Scholars school, so they have a strong community service program and they actually recruit kids who have a strong background in community service. They actually put the Bonner Scholars in with the honors program students in a separate dorm. So engagement is a big part of this school and what it means in the community.
So three things: size, location, and engagement. That was what I was told to remember about Stetson. And then you can also remember that this is the rock pile. This is sort of a symbol that every school has some sort of a rock that's sort of the anchor of the school, but here at Stetson they decided recently to add a whole bunch of rocks because it symbolizes that from many rocks, we have a community of rocks here at Stetson University. So fun place to visit; I enjoyed my visit very much.