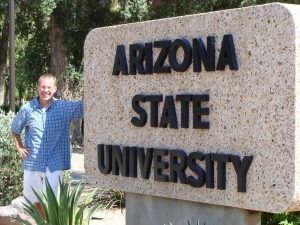 I spent an afternoon recently exploring the Arizona State University Campus in Tempe, Arizona. I found the campus to be surprisingly compact, given the size of its student body (over 51,000 students). It's a huge place.
Would somebody please explain why I chose to visit in the summer?
First of all, like most college campuses in the summer time, ASU's campus was relatively deserted.
Plus, it's in the desert.
It's HOT in Phoenix in the summer. So if you plan to attend ASU, enjoy the mild winters walking around in your flip flops, and find somewhere else to hang for the summer.