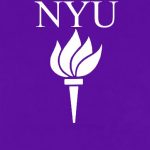 Summary:
During a recent visit to New York City, Cara stopped by New York University to talk a little bit about what it means to go to college in a big city.
Hear from Courtney, a graduate student at New York University, about some of the ways she feels that going to school in New York City enhances her educational experience and prepares her well for a career in the future. As a student studying fundraising and grantmaking it is a perfect place for her field.
Cara explains that there are many benefits to going to school in a big city like New York. It is an exciting place filled with opportunities for research, internships, museums, theater, and much more. However, it is important to consider what kind of student, and learner, you are because for some students it may feel a bit overwhelming and easy to feel lost in the crowd. New York, and NYU, are big places so while it can be easy to get caught up in the thrill of going to school in an exciting environment make sure that you will feel comfortable there, will know how to seek out the opportunities that will be at your fingertips, and also how to ask for help when it is needed.