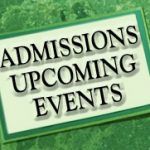 Seniors, have you been invited to an admitted student day for a college you have been accepted to? Whether you already know that you will be attending the college or are still trying to make comparisons between schools, these programs are often helpful.
Here are a few tips for how to make the most of your visit.
1) Check out the agenda before you go. Many colleges post their tentative agendas for their program on their website in advance. Take a look with your family so you can map out a plan for all of the sessions you want to attend and don't feel overwhelmed when you get there.
2) Divide and conquer. There are often many sessions happening at the same time so split up (parents from students) so you can gather as much information as possible and come back together later in the day to share what you learned.
3) Talk to current students. Current students will often be your best resource at these program. However, try to talk to them away from the regularly scheduled tour time as they are often much more scripted on tours. See if you can sit with them in the dining hall or walk with them on the way to a session.
4) Check out the surrounding area. Drive or walk around the surrounding neighborhood. Scope out local restaurants, off-campus housing options (if the college allows for that), accessibility to grocery stores, shopping, etc. Get a feel for place you may be living for the next four years.
5) Eat on campus- test out the food. What kind of options are there? What time of day are they open? Are there "grab and go" possibilities if you are running late for class? Convenient stores on or off campus to grab a late night snack? Ask a current student where their favorite place to eat on and off campus is. Also, if you have any food allergies, don't be shy about asking one of the staff for suggestions on how to manage this away from home.
6) Talk to someone in the financial aid office. Make sure you have a good understanding of the financial package they are offering you and double check that you haven't missed any scholarship opportunities.
7) Check out your housing options. Often, these accepted student open houses allow for you to see residence halls and maybe even the one you would be living in. Trying to decide between residence halls? Talk to current students and RAs. Although most students will tell you that the one they lived in is the best (everyone develops favorites!) some have different perks to them such as: residential academic programs, proximity to certain buildings (rec center, library, etc), dining halls, etc.
8) Check out the bookstore. Try on the school colors and see how they fit. Stock up on some gear. Take a look around to see how easy it is to find your textbooks, school supplies, and computer/technology assistance.
9) Students, take some time to just sit by yourself or explore on your own. Go to the student center or another student hangout and just observe. Spend the night if you can with a student. Sometimes that feeling of independence may be just what you need to make the decision a little clearer.
10) Take pictures. Sometimes these events can be overwhelming and it is easy to forget what you saw. Pictures will spark memories when you get back home and are sorting through all of your decisions.
Enjoy!
image credit: http://liu.edu/CWPost/About/News/Campus-Calendar/2011/April/AdmittedSD_Apr3.aspx